The copyright on our games belongs to us. We run the games commercially ourselves c/o our sister company, Murder Mystery and Mayhem.  Here is how that copyright works:
Private murder mysteries
When you buy and download one of our games, you buy our permission to play the game once with a group of friends or work colleagues as a private, social event.
Charity events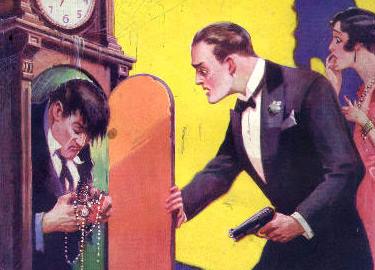 If you are a charity and want to run one of our games as a fund-raising event, you can do so. You don't need our permission for this and can sell tickets for your event PROVIDING NO EVENT ORGANISER GAINS FINANCIALLY FROM OUR MURDER MYSTERY. For instance, by charging you to provide actors or run the plot for you. You must take charge of putting the plot together yourselves and run it yourselves. Or, if you'd like us to run it for you, have a look at Best Value Option 4 on this page (works best if you are based in the UK).
Commercial murder mysteries
If you are a business or company which wants to make money by running a murder mystery for other people, YOU CANNOT USE OUR GAMES FOR THIS unless you have obtained a commercial license from us first. For instance, if you own a bar, pub, restaurant or hotel and think that running murder mystery dinner might be a good way of making some extra money, you'd be right. But you can't use any of our games for this unless you've contacted us about this beforehand and agreed a license fee for doing so. If you are an event organiser who wants to run a whodunit evening for a corporate client, you must seek our permission and agree a license fee first before using one of our games. If you don't, you will be in breach of our copyright. We protect this fiercely and pursue those who break it vigorously.
How much we charge for a license depends on how many times you might run a plot, how many people it might be for and how "exclusive" you want the license to be. For instance, a license to run one of our plots exclusively in one small town will cost a lot less than if it's across an entire state. We try to avoid selling multiple licenses in the same area to ensure you have some exclusivity.
For more about any of the points raised above, please contact us at mmgames[[email protected]]mayhem.org.uk.