Read the customer testimonials below to find out what people think of our murder mysteries. Or, when you've run one, tell us  how it worked for you by using the Feedback comments form at the end. Or find us (and share your photos with us) on Facebook and Twitter.
Highlights: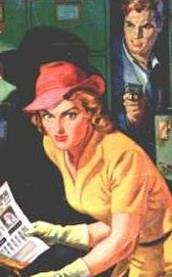 Instant Parties
Dressing Up
Birthday Celebrations
Christmas & New Year Fun
Making New Friends
Instant Party Time
'We organised this one at very short notice (two days).
A great night was had by all and it made my girlfriend's 30th so much more memorable than just "drink and nibbles" at home.
The costumes people came up with were funnier because they had to improvise at short notice…
Everybody entered into the spirit of the game with great characterisation.
I can't remember a party where everybody spoke to everybody for so long!!!
Thanks again for a great night…'
N. and R.
United Kingdom
New Year, New Murder
'The Final Curtain took place early in the New Year. There has never been so much over acting…
Everyone enjoyed every minute.
At the end of the evening, the list of nominated murderers consisted of 10 (everyone played their parts so well)!
Thank you for such a comprehensive game. It was a pleasure to organise!'
J.B.
United Kingdom
Last Gasp at The Church
'Well, our Last Gasp went off without a hitch! We all had a great time!
It was wonderful to have all the info and props we needed…
Some people were a little sceptical about coming, but once they got into it they had a fun time.
Thanks – we'll be back!'
Lisa McKinnon
Cross Lutheran Church
Minnesota
USA

The Auction, An Entertainment Vehicle
'I ordered 'The Auction' to run as a birthday event to celebrate my wife's 50th.
The evening…was an outstanding event.
They may have started off in a reserved fashion but when the 'principles' started to perform they joined in giving real depth to the character they were cast as.
All agreed the event was different from the normal 'birthday party' and that there were some very clever, if not also very devious, individuals who put the event together.
The evening was a new experience for all of us and provided a social and entertaining vehicle allowing our friends from varied and different spheres to meet and enjoy themselves.
Thank you.'
J.A.
United Kingdom
Farthingay Manor for All Ages
'We played Farthingay Manor last Saturday with a cast that ranged in age from their early 20's to their early 80's.
Everyone thoroughly enjoyed the game, and it was amazing how well each got into character.
The twists and surprises along the way kept things going nicely.
'If I were to do it over again, the only thing I would change would be to leave dinner until after, so everyone could concentrate on the game!
Who needs food when you're having a good time?'
T.M.
Canada

The Teenagers' Final Curtain
'I just hosted my daughter's 14th birthday party. We did the mystery "The Final Curtain".
It was a riot. They all dressed the part and acted the character. One guest even guessed the answer with motive and the right clues.
It was easy to download, easy to understand and fairly easy to put together. I will definitely keep you in mind the next time we do a mystery party!'
Dena
USA
Excellent Job
'The party was FABULOUS!!! Everyone was so excited they all either rented costumes or made them. Everyone looked great and had the best time ever.
Whoever created this did an excellent job, we will definitely purchase another one in the future.'
M.G.
USA
Party Mixer
'Just to let you know that the party went very well. I was very anxious at the start but by the end you could hear a pin drop as each group listened to the others' solutions.
Many people mixed together who did not know each other…
We had an age range of 82 to 9 and they all joined with some fascinating costumes.
Many thanks – we will certainly try another game in the future.'
D.
United Kingdom
Begging for More
'We got your "Auction" murder mystery back in December and ran it on New Years Eve to an overwhelming success. Our guests are begging for another.'
B.W.
USA
Not a Christmas Turkey
'Excellent evening, considering it was all done at the last minute, and gave us all something to think about rather than work. Everybody seemed to be keen to solve the clues rather than eating their Xmas meal.'
N.T.
British Council
Game Storm
'The game went down a storm. Everyone made a real effort with the costume although Bernard Fry's dress "as an expression of man's oppression" was quite a novel one. Perhaps slightly less gin next time, and more of us might actually guess the murderer!'
E.G.
Nottingham United Kingdom
New Year Success
'Thank You!!! I just wanted to let you know that I purchased the Auction, and played the game with 14 others on New Years Eve and it was a huge success!!! None of the people had ever played a murder mystery game and it was great.
Thanks again for making our New Years Eve a great party!!!! Please come up with some new mysteries!'
T.W.
AKA Freddie Farr
USA
Repeat Custom
'I look forward to using THE LAST GASP in March with a group of adults. I have already used THE AUCTION and people are still talking about the marvelous fun time they had and sometimes refer to each other in their character parts. It was just great fun.'
C.A.
Walnut Creek
California
USA
Clear Instructions
'The game was terrific and all went surprisingly well. The instructions were clear and the evening was a complete success!'
A.B.B.
USA
Why not be the perfect party host, make new friends and star in your own show for your party?